A Tour of Asia's Oldest Radio Station
A tour of Asia's oldest radio station, which introduced Sri Lanka and India to Elvis Presley, is a journey through broadcast history
Since 1925 and under various names, Sri Lanka Broadcasting Corporation has sent over the airwaves news, music and more from its studios in Colombo
Visitors to the studios can view old equipment, sit in on broadcasts and learn about its vast collection of recordings of music and the voices of intellectuals
Khursheed Dinshaw in India
South China Morning Post
9 May, 2023
The black and white photograph shows Britain's Queen Elizabeth inside an Asian radio studio in 1954. She has a side parting, her hair tied back in a bun.
A necklace adorns her delicate neck and she is addressing the public by microphone – from Radio Ceylon, Asia's oldest radio station.
The photo is one of the many heritage items that visitors see as part of a guided tour of the station's home in Torrington Square, in Colombo, Sri Lanka's capital and its largest city.
Blending past and present, the tour educates visitors about the history of radio in Asia and affords a rare opportunity to listen to the voices of intellectuals past.
Beyond a well-manicured lawn, a white facade topped with terracotta tiles greets visitors to what is now known as the Sri Lanka Broadcasting Corporation (SLBC).
Also painted a minimalistic white are the interiors, where wide corridors are filled with equipment that defines radio history – transistors, transmitters and a Marconi microphone – and wall-mounted photographs.
Visitors – one at time, without shoes on – can sit in as presenters broadcast live in the studio.
The year 1923 was a game-changing one in terms of mass communication in Asia.
It was then that Edward Harper and other engineers at Ceylon's telegraph department decided to broadcast gramophone music as an experiment, using the waveband later employed for the birth of Colombo Radio, which became Asia's first radio station on December 16, 1925 (the forerunner of Hong Kong's RTHK would begin broadcasting on June 20, 1928).
During World War II, the radio station played a strategic role in communicating news and combat developments to listeners in South Asia.
Colombo Radio was renamed Radio Ceylon in 1949, following the nation's independence from Britain, and Ceylon Broadcasting Company a couple of years later. "Sri Lanka Broadcasting Corporation" was adopted in 1972, when the country's name was officially changed.
In the post-war years, some of the station's presenters achieved recognition across the Indian subcontinent. Ameen Sayani found fame with his Binaca Geetmala programme, the success of the Congress party in India's 1952 election helping boost its popularity.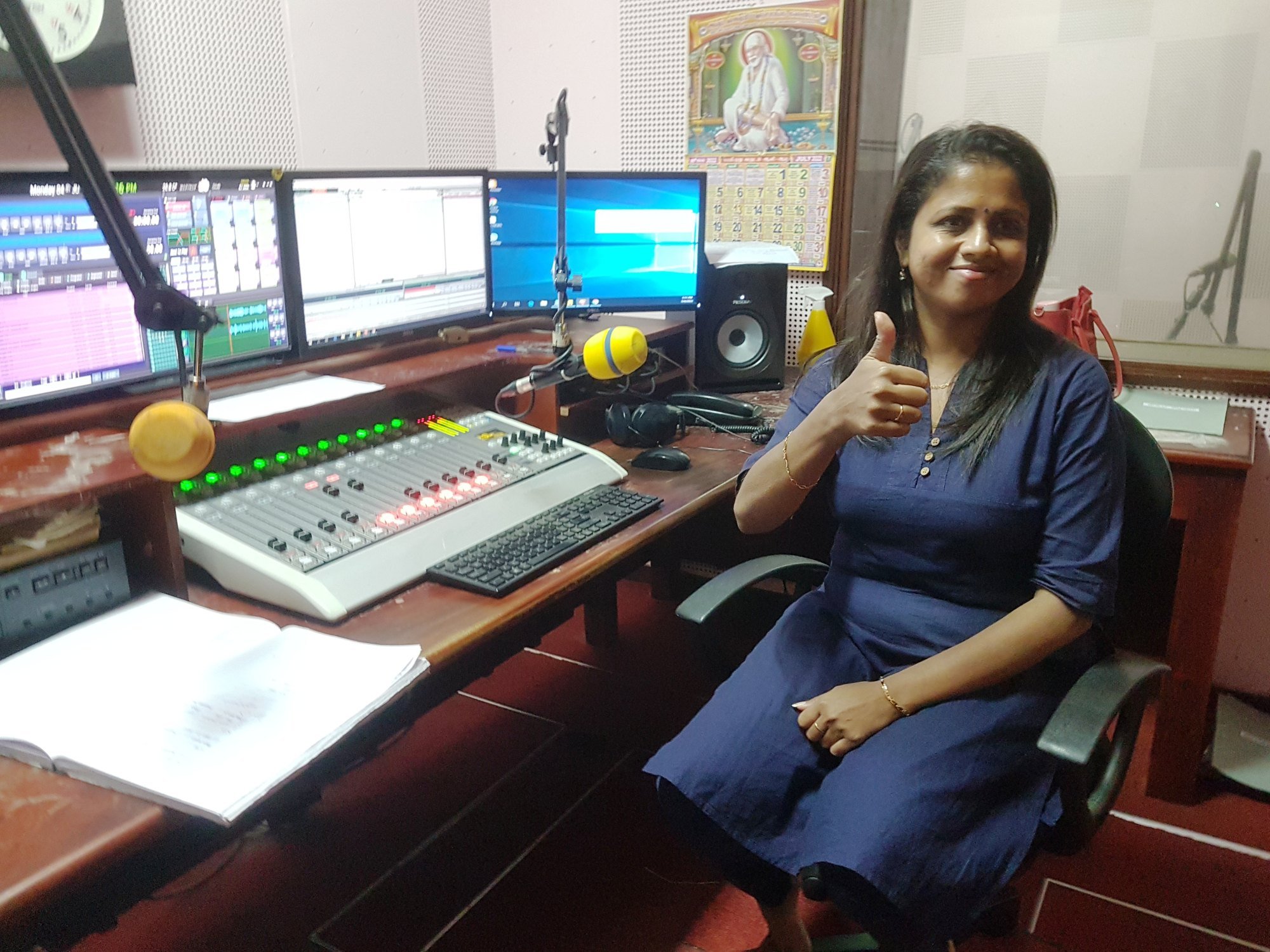 The Congress party appointee as union minister of information and broadcasting, Balakrishna Vishwanath Keskar, believed that songs from Hindi movies were vulgar and encouraged Indians to adopt Western ways. He banned All India Radio (AIR), the nation's public service broadcaster, from airing Hindi songs.
Indians began tuning in en masse to Radio Ceylon, which still broadcast their favourite film songs. The weekly Binaca Geetmala programme had generations glued to their radio sets, listeners connecting to Sayani's imposing voice as it filled their homes.
Seventy-year-old Nina Irani, a participant on an SLBC tour from Pune, India remembers those days. "We didn't have a TV at home. Our radio was the only source of entertainment," she says.
"We would wait intently for the programme. Even our neighbours would join us and we would all listen together. The second Ameen Sayani's introductory words of "Behno aur Bhaiyo" ("sisters and brothers") flowed through our living room, we were glued.
"He had a cult following and, for decades, we listened to Hindi movie songs on Radio Ceylon. Even today, I nostalgically narrate the feeling of being part of the Binaca Geetmala family to my grandchildren," Irani says.
"Every day, our station would receive many mailbags filled with postcards from listeners requesting their favourite songs and music," recalls SLBC chairman Hudson Samarasinghe of the 1970s, when he worked at the station as a producer.
"We have even had listeners from India specially queue outside the station and request to carry home earth from our premises. Since we air religious music, listeners revere SLBC and the earth where it is situated."
The station also introduced South Asian listeners to the likes of Elvis Presley, Jim Reeves and Patsy Cline, American artists favoured by presenters such as Vernon Corea, another whose photograph hangs on the corridor walls.
Corea also interviewed Sri Lanka's own musical stars, such as Nimal Mendis and Des Kelly, and broadcast local Sinhala music.
Also hanging along the corridors is a photo of Harper, known as the father of broadcasting in Sri Lanka for his passion and innovation.
During the tour, visitors are shown around the five libraries in which music is stored and the recordings of intellectuals can be listened to.
"We have a collection of more than 250,000 tapes and discs," says librarian Subhashini De Silva, who has worked at the station for 18 years. "From these, the popular songs have been computerised.
"You will find programmes in Sinhala, English, Hindi, Tamil, Latin, Russian, Spanish, Dutch and French in our library."
SLBC continues to thrive in the age of podcasts. It broadcasts via short wave across India, Nepal, Pakistan, Bangladesh and the Maldives, as well as Sri Lanka. The station can also be found online and has its own app, developments that would perhaps amaze even Harper.
Khursheed Dinshaw is a travel writer, author and photographer. Her words and photographs have been published by BBC Wildlife, The Guardian, Escape, Forbes India as well as Travel + Leisure India and South Asia.
Copyright © 2023 South China Morning Post Publishers Ltd. This material remains © South China Morning Post Publishers Ltd and is only to be used for non-commercial personal or research use. Any other use requires permission of the copyright holder.
(Visited 44 times, 1 visits today)